Pommard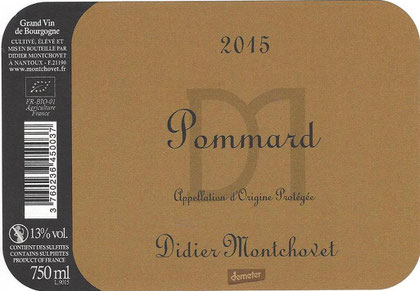 GRAPE VARIETY:
PLANTED IN:
SIZE OF PARCEL:
GEOGRAPHICAL POSITION:
SOIL :
GROWING METHOD:
GRAPE HARVEST:
WINEMAKING:
CHAPTALIZATION AND SULPHUR:
THE WINEMAKER RECOMMENDS:
        Type of wine:
        Tasting:
        Temperature of service:
Pinot Noir.
From 1941 to 1987.
0.7 hectares.
At less than 3 km from Nantoux, south-facing.
Clay-limestone on calcareous, almost unfissured bedrock.
Traditional low-trained vines, 10 000 plants/ha.
Manual.
Long fermentation, with up to 25 days in wooden vats. Aged in oak barrels for 12 months, with only 10% of new oak.
Very moderate.
Universally famous appellation for its special characteristic; it is undoubtedly the most closed wine of Burgundy, and hardest when it is young. It is better kept in cellar for ten years or more to reach its full potential of expression.
At its best between 4 and 12 years. Taste with rich powerful meats or game when young, with all types of meat or cheese thereafter. 
14 to 16°C.