Coteaux Bourguignons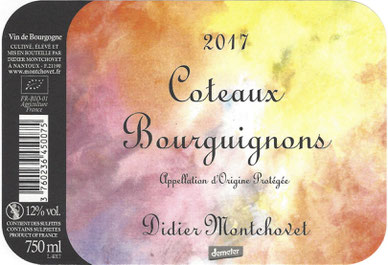 GRAPE VARIETY:
PLANTED IN:
SIZE OF PARCEL:
GEOGRAPHICAL POSITION:
SOIL :
GROWING METHOD:
GRAPE HARVEST:
WINEMAKING:
CHAPTALIZATION AND SULPHUR:
THE WINEMAKER RECOMMENDS:
        Type of wine:
        Tasting:
        Temperature of service:
Gamay.
1950
 0.7 hectares.
The parcels are located 6 kms from Pommard, at Bouze-lès-Beaune.
Clay limestone, Upper Jurassic period, very stony.
Traditional low-trained vines, 10 000 plants/ha.
Manual.
In whole bunches in vat for 8 days, ageing in enamelled vat for 6 to 8 months. Bottled with screw-caps, not corks, to preserve all the purity of the wine.
Very moderate.
Light and very fruity, with strawberry, peppery aromas.
Drink within 2 years, quite cool, with simple foods: cooked pork meats, picnics.
8 to 10°C… very nice in the summer.