Bourgogne Hautes Côtes de Beaune red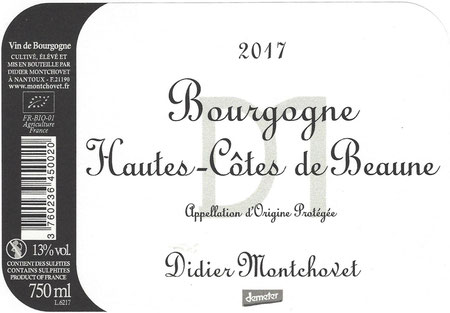 GRAPE VARIETY:
PLANTED IN:
SIZE OF PARCEL:
GEOGRAPHICAL POSITION:
SOIL :
GROWING METHOD:
GRAPE HARVEST:
WINEMAKING:
CHAPTALIZATION AND SULPHUR:
THE WINEMAKER RECOMMENDS:
        Type of wine:
        Tasting:
        Temperature of service:
Pinot Noir - the great red variety of Burgundy.
Between 1950 and 1990.
4.5 hectares.
The parcels are located 4 kms from Pommard, mainly west-facing.
Clay limestone, Upper Jurassic period.
50% of vines are traditional low–trained vines, 10 000 plants/ha, and 50% are planted in "Vee" shape (lyre).
Manual.
Long fermentation, with up to 25 days in wooden vats. Aged in oak barrels for 12 months, with only 10% of new oak.
Very moderate.
Very typical Burgundy: wine with a very clean, complex and delicate nose, a fine and diversified bouquet of aromas, red fruits and leafy undergrowth.
Drink now or keep in cellar for a few years.
Young, this wine marries well with strong meats and even cheeses. Later, it will better accompany more delicate foods.
14 to 16°C.