Bourgogne Aligoté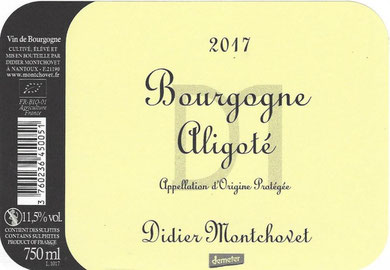 GRAPE VARIETY:       
PLANTED IN: 
SIZE OF PARCEL:  
GEOGRAPHICAL POSITION:
SOIL :                                   
GRAPE HARVEST:                    
GROWING METHOD:                    
WINEMAKING:
CHAPTALIZATION AND SULPHUR: 
THE WINEMAKER RECOMMENDS:
        Type of wine:
        Tasting:            
       Temperature of service:
Aligoté.
Between 1946 and 1995.
0.7 hectare
The parcels are located 6 kms from Pommard, at Bouze-lès-Beaune.
Rather marly clay limestone, from the Upper Jurassic period.
Manual.
Traditional low-trained vines, 10 000 plants/ha.
Grapes are pressed straight after harvesting, then fermented in enamelled vats.Ageing is for just 6 months, and bottling after fining, with powdered clay. Bottles are screw-capped to keep in all the purity of the wine.
We were the first winemakers in Burgundy to use this stopper type.
Very moderate.
Fresh, fruity, fine and delicate flavours, immediately expressive.
Drink soon, within 2/3 years. Apéritif on its own or with fruit liqueurs or elder-flower syrup, or served with seafood or medium-hard goats' cheese.
10 to 12°C.