Constitution du Domaine
- 0,5ha of BEAUNE PREMIER CRU at COUCHERIAS and VIGNES FRANCHES.
- 0,7ha of POMMARD.
- 1,4ha of BOUGOGNE ALIGOTE of which 0,7ha is lyre-planted.
- 0,2ha of BOURGOGNE PASSETOUGRAIN.
- 0,5ha of BOURGOGNE GRAND ORDINAIRE.
- 2,5ha of BOURGOGNE HAUTES COTES DE BEAUNE, PINOT NOIR red, of which 1,5ha are lyre-planted.
- 3,5ha of BOURGOGNE HAUTES COTES DE BEAUNE, CHARDONNAY white of which 3ha are lyre-planted.
 
9.20ha on the whole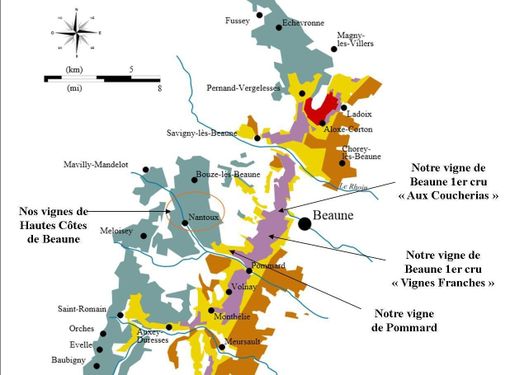 Our greatest pride is to have been able to put together two large plots of land:

* One plot in "BIGNON" in the commune of Bouze les Beaune, on the exposed South West side, at present of 5ha, enormous for the region, planted with:
 
- 0,7ha of ALIGOTE.
- 1,5ha of PINOT NOIR: HAUTES COTES DE BEAUNE (red)
- 2,8ha will be planted with PINOT NOIR later and are now planted with meadow and hedges.
 
* One plot in "CRAS" in the commune of Nantoux, on the exposed South East side – 4ha put together by reuniting 37 old lots. Vine planting ended in 2002, to create about:

- 3ha of CHARDONNAY (white HAUTES COTES DE BEAUNE and CREMANT).
5.20ha on the whole lyre planted.

These two plots of land are partially surrounded by natural hedges so as to enhance the beauty of the countryside, preserve endangered species such as butterflies, birds and orchids, and to create a micro-climate eco-system. We have also planted fruit trees from local stocks: apples, pears, cherry, "pêche de vigne" peaches...
 
But also for these two plots, where all our own planting is located, we have chosen an entirely innovative method: LYRE planting.
 
This method has a number of advantages:
- It allows a strip of grass to grow between the rows of vines, so that we are no longer dealing in monoculture, which is a disaster for the soil (which is the basis of everything: the land).
 
- It keeps the grapes further from the soil, with fewer risks of disease.
 
- It gives better maturity thanks to the best ratio between exposed leaf surface and weight of grapes of any vines under cultivation!
 
- It allows pickers to work standing up – they prefer it – the wine is better.
 
- It means that most of the mechanised work can be achieved with a quad (four-wheeled motorcycle), which damages the soil even less than a horse.